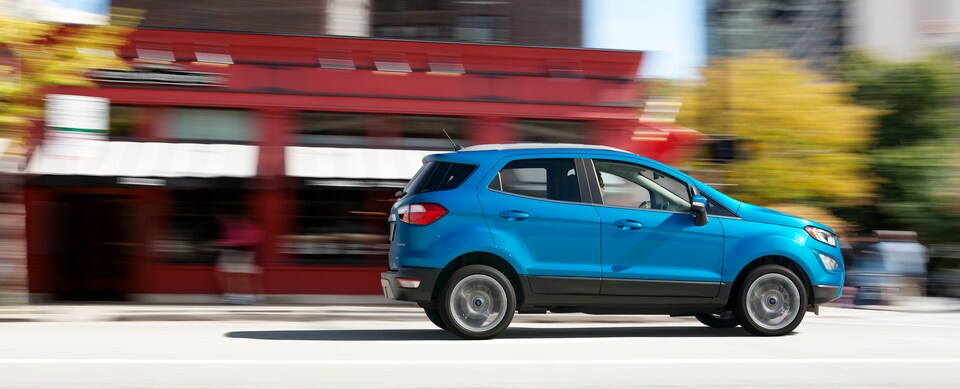 Drive in Style in the New 2020 Ford Ecosport
Looking for your next vehicle, but don't know where to start or what manufacturer to look at first? Searching for a vehicle for a friend, relative, or yourself can be a stressful time. However, there is a vehicle out there that can fit any taste or lifestyle. Classy and sporty meet in the middle in the new 2020 Ford Ecosport. With the renowned reliability of the Ford brand, with great new features and various trim levels, you will wonder how it was ever possible you had any other vehicle before this one.
The new 2020 Ford Ecosport will raise your expectations on what a vehicle can provide for you. This compact sport utility vehicle really packs a punch of power for its size. It has a 1.0-liter three-cylinder or 2.0-liter four-cylinder depending on the trim level you choose. The four available trim levels to decide on include S, SE, Titanium, and SES. This allows you to really choose the right 2020 Ford Ecosport that is perfect for you. This vehicle also gets great gas mileage, averaging 29 miles per gallon on the highway.
The new 2020 Ford Ecosport pairs its impressive performance with even more innovative features for Chatham and Auburn drivers. Heated front seats, a heated steering wheel, and rear seats that can fold completely flat are just a few examples of features that exudes luxury and space. Speaking of room, there is 20.9 cubic feet of cargo space, and tops out at its max at 50 cubic feet with the foldable rear seats. Impressive safety and technology features in the vehicle include 4G LTE Wi-Fi, a 6.5-inch touch screen, satellite radio, dual control climate in the front seat, and easy connectivity and accessibility for your smart phone.
Overall, the new 2020 Ford Ecosport is the perfect new vehicle to call your own. With dependability, performance, innovative safety technology, luxurious features, and a show-stopping appearance and trim levels, this new vehicle is hard to top. To test drive the new 2020 Ford Ecosport, come to Landmark Ford East, and visit with our friendly staff to get started on owning one today. If you're in Riverton or Sherman, get your new Ford Flex here at Landmark Ford East. Reach out to us for directions for directions and more information on of new inventory today.